TOUGHDOG 4WD SUSPENSION
​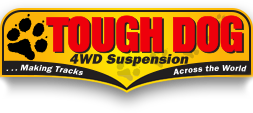 Whether you've got a Tough tourer, or a capable workhorse, Tough Dog has the solution...
The modern 4WD is not only the backbone for tradies and professionals, but also the modern family car as well! With all the mod-cons today's buyer demand, its not difficult to see why. Off the showroom floor though, these vehicles are a jack of all trades, master of none. Tough Dog suspension offer a solution for every application, from comfort through to heavy load carrying and offroad use.

---